Djurs Sommerland: a school paradise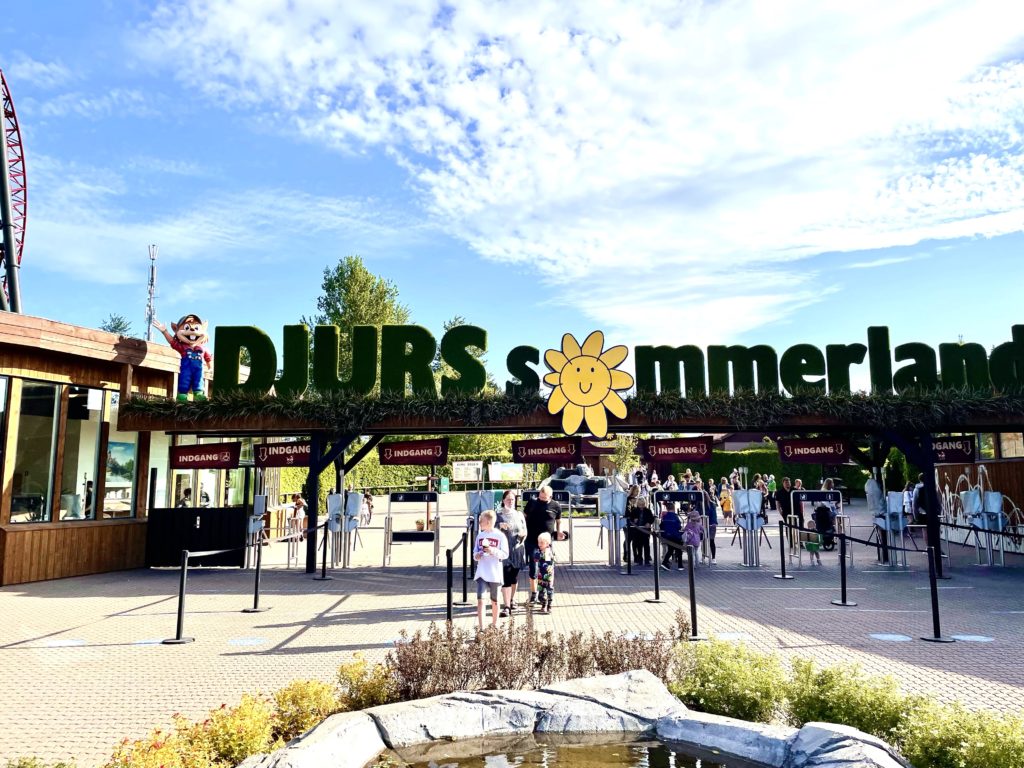 Actually, I should have noticed it right away: If a park is only open on the weekend, but also opens its doors on a Wednesday, then that can only mean that rulers of buses spit out schoolchildren. Pubescent monsters abound. So if I write something negative about our visit here, it is probably influenced by this fact. I ask you to take this into account when reading.
Our mobile home then found its place directly between the buses. We endured a corona test early in the morning in a neighboring town to the park. So groomed we got into the park without any problems. The subject areas were then opened punctually at 10 a.m.
Now the young wild ones run to the railways. We want to take it a little easier. After all, we are no longer the youngest. Our first run is a Mack Rides water coaster. Technology from good old Germany. The ride is short, wet and good. Here it was our turn. Nevertheless, we already suspected that the park had some weaknesses in handling the trains. And when there is a lot of audience in the park, it can quickly lead to very long waiting times.
Next to the Water Coaster, "Piraten" sits enthroned an Intamin Giga Coaster. We don't wait long here either and the first really super ingenious roller coaster of this tour casts a spell over us. Fast lift and then always high speed and lots of turns and airtime hills. Great train.
But the park can go a step further: JUVELEN! A real gem from Intamin. On a replica of a quad, you ride the longest roller coaster in Denmark. First a short dark ride part and then you are pushed away on friction wheels. Quite neat. Some turns and a long hill. Up to here quite nice. But then the 2nd launch comes and the train really turns up. It almost tears us off our seat. Lots of curves and helixes. And again this great airtime. An Intamin specialty.
This time the next train is from Gerstlauer. I know their bobsled coaster from MoviePark Germany. As Van Helsings Factory, it does its laps as an indoor coast. In Djurs Sommerland the railway is called Thors Hammer. And here the name says it all: Asgaard is a theme everywhere. Very well staged. The train is then quite ok. More like a wild mouse. Only at the end do you turn a lap in a helix just above the water level. If you sit in the car, it looks really cool.
In the meantime, the park is filling up more and more with children and young people. Long lines everywhere. We set out to explore the park's newest track. DrageKongen (Dragon King).
Right in front of the entrance to the Dragon King is a small Zierer system with a very cool train. The "Jungle Rally". Lots of small vehicles with a 1960s vintage look. For this count, we like to squeeze into these cars.
And finally we go to the Dragon King across the street: another line from Intamin. A suspended family coaster. Here you sit under the rail. The train starts very quickly and warm air pushes us towards us in a dark tunnel. Like the breath of a dragon. With the sound effects, that's a really great effect. Then it goes up the lift. This is also driven by friction tires and not by a chain. So the start is pretty quick. The train runs smoothly and well. However, there are no ideas here that make the railway special. Because of the extremely long waiting time, we leave it at one trip.
Last but not least, we drive the "Vilde Hønsejagt". A Zierer Force 2. Of course, this is a roller coaster for the smallest coaster buddies. But the theming in a farmhouse look is completely convincing. It's fun to watch the children drive. Of course we only run the train for the count! 😉
Now hunger strikes at around 1:30 p.m. But the queues in front of all the restaurants and stands have felt even longer. Annoyed, we stand in line for hamburgers. But nothing progresses here even after 10 minutes. And then an employee from the park speaks to us suddenly and points out a restaurant to the rear of the building complex. There is a burger menu for cheap (er). Good tip! So we still get something in our stomachs. The quality goes like this. Fills you up.
The lanes are actually too full for us to repeat trips. But we are still in line with "Piraten". Now experience this train in the last row. Another great ride. But also an hour of waiting. On all of these rides, another person is definitely missing to handle. That would bring a lot of better utilization. But here the savings pen has definitely struck. But who can blame the parks during the pandemic?
The park map also shows water rides. We have collected all the counts of the park and meanwhile the sun has driven away all the clouds and so there is nothing wrong with a few splashes of water. First we go rafting with "Rio Grande". For me, this Wild River experience is actually one of the best I've ridden so far. The track is very long and has grown in very well. Lots of variety and fun spraying systems. Fast and slow passages alternate well.
The Logflume "Long Cun Expedition" is also a train that doesn't have to hide. 3 runs make us really wet.
And then at 5 p.m. the park suddenly becomes emptier. We use this chance for 2 repetitions on "JUVELEN". Once behind and once quite far ahead. This lift belongs in our top ten. A really great ride.
We enjoy our final trip in the First Row of "Piraten". Honestly? Here the train rocks even more than it already does. Also a candidate for our top ten.
And now the conclusion to the park: It's beautiful, it's great. But it was very, very full on our visit day. Just not with families that are spread out well across the park and use all the attractions equally. But with students who only throw themselves on the thrill rides. This fact and the lack of a third person to handle the rides cost us a lot of time. And waiting between the young savages is really no fun. There was pushing and shoving. Apparently there is also a lack of respect for the park. Garbage is thrown on the paths and you also like to walk through the flowerbeds when the path is shorter. So much laziness is just annoying. But of course there are also the other students who are ashamed of themselves. There is a lack of supervisory staff here who should ensure a minimum of order during pandemic times. But I don't want to chalk that to the park. The schools should also play a supportive role here. Unfortunately, this experience rubs off on the experience in this beautiful park. I hope that Djurs Sommerland will be visited by many families on the weekends. Because this amusement park with its varied offer is perfectly set up. We'd love to come back when the dinosaur theme world opens. Because the park can thematize!